Dayton BMHA 2011 Forum -- The Announcement
Date: May 22, 2011
Time: 9:15 - 11:15
Room: Room 5
The 21st annual BMHA forum is set for Sunday, May 22th at 9:15 AM in Room 5. Mike Nickolaus, NF0N, is our forum moderator this year.
We encourage any to bring their bicycle and radio setup to the forum room. We will set aside time for you to display your setup and demonstrate to the group.
In addition to the program speakers, we will have free Adventure Cycling magazines, 10 free Adventure Cycling memberships to be given away and a few decals to be given out.
We also have the BMHA Bike Ride on Saturday May 21st (see below).
Come and ride, have a good time at the Hamvention and attend the BMHA Forum.
Moderator and Speaker: Mike Nickolaus, NF0N
Speaker: Norm Huber, N9ZKS
Bicycle Mobile Hams of America got its start in 1989 when a QST article by Hartley Alley, NA0A asked hams who oeprate their radios while bicycle-mobile to get together and form a group. BMHA hosts a website along with the BMHA Yahoo Groups forum.

Norm Huber, N9ZKS, will present "Boy Scouts of america, Bicycling and Ham Radio. Three hobbies blended with service to other", his experiences with BSA combining Bicycling, Ham Radio and being a badge counselor.

Mike Nickolaus, NF0N, will present "Ride to my 50th high School Class Reunion", a recreation of the ride by NA0A that started BMHA.

We plan to have bicycle mobile displays and demonstrations of each will be conducted.
Mike Nickolaus, NF0N
BMHA Forum Moderator
Room details are shown on the Hara Arena map below.
The Dayton Hamvention website is located at:
http://www.hamvention.org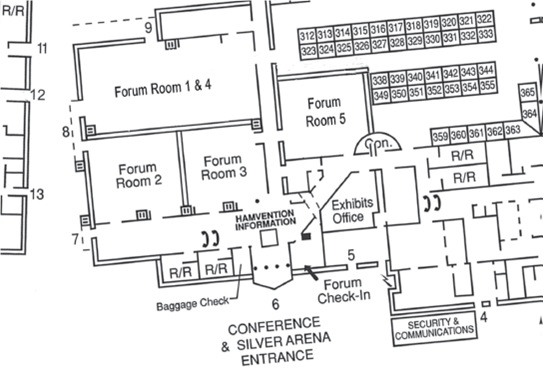 ---
Dayton BMHA 2011 Forum -- The Bike Ride
Date: Saturday May 21, 2011
Time: 1:30 PM at the Creekside Trail (see body of message)
Length: 17 miles
Hello group!
Its that time of year again... the Hamvention is getting close, and I thought I better get some info out for those who are interested in taking their rolling hamshacks out for a spin on the trails of Dayton.

I thought that this year we would try out a different trail... The Creekside trail.Check out the trail on this interactive web site for the location and how to get there....

http://www.miamivalleytrails.org/Interactive-Maps.htm

I have looked at a few of the maps and gotten some feed back from one of the "locals" about the trails and was told we should try the "Creekside" trail. It is a 17+ mile trail that ends Xenia. It looks to be a very nice trail. Paved, with restroom stops with water ever so often. There are places to eat along the way.. and even a bike shop if it is still in business.. Here is a site with lots of info on the trail...

http://www.miamivalleytrails.org/creeks.htm

We will start on this trail at the 'north' end of the trail (green trace on interactive map) gathering at the parking area just north of the trail around 1:30 PM, and departing on the ride at 2PM. We will ride south a way, and return on the same trail. Afterward we will have something to eat in the local area, depending on what the group decides would be good place. There are several The parking area / trail head is just north of the end of the green trace of the trail on the map. This is where the trail meets the "Mad river trail", which continues West into downtown Dayton. We would enter the park, the "Eastwood metro park", to get to the parking area at the trail head, from "Harshman road",. Going South on Harshman road from the intersection of highway 4 and Harshman, take the 2nd road exit going west into the park.Follow the road to the larger parking area that the road takes a right angle turn to pass thru the parking lot. This is where we will start from.

Check it out on the Satellite view of the map to get a better idea where this is. A few tips...

To get to the park, from Hara Arena..

Take Turner road and head east, this is a divided 4 lane road. After a while the road will be renamed Shoup mill road, and then a little farther on, renamed again as Needmore road. It will cross I-75. Keep going east on the 4 lane. it will turn southward, and at highway 201 it will be renamed Harshman road. Where it becomes Harshman Road, it will no longer be a divided road. Continue southward. on Harshman. After you cross under highway 4, Harshman becomes a divided highway again, and you are just about to the park. Continue south past the first road going west after hiway 4. . At the 2nd road going west, I believe there is a stop light. Turn west and go into the park. Then follow the road as mentioned before into the parking area at the trail head.

I hope that these instructions and map are clear enough for everyone..Even so, I will be on 146.55 Mhz simplex for talk in starting around 1:15 or so. Call KA0NCR if you run into problems finding the place and need help.

Please drop me an E-mail at KA0NCR at Yahoo.com letting me know you are planning to attend, and if you don't have a 2 Meter rig, I will send you my cell phone number. Either way we will be sure to listen for you.

I have placed an order for good weather for the ride, so I hope to see lots of you there!
73 - Arnie - KA0NCR