Dayton HamVention 2001
HamVention 2001 !
Dayton or Bust: Bicycle Mobile -- Ontario to Dayton ! HF Bicycle Mobile Dxing !
BMHA begins the new Century with another great HamVention forum. This year features two stellar programs with the "Dayton or Bust" Bicycling team from Ontario and a pioneer Bicycle Mobile DX'er from Georgia. If you have been looking for a reason to attend the BMHA HamVention forum, this year's lineup gives you two.
Once again, we have been allotted one hour of official forum time. Since we are the first forum of the day, we will have an informal session prior to our official time. We will meet in Room 2 at 8:00 a.m. for the informal time.
Here are the details:
Date: Sunday, May 20, 2001 Time: Informal, 8:00 am - 8:30 am Forum: 8:30 am - 9:30 am Location: Room 2 ( This is the same location as 1999)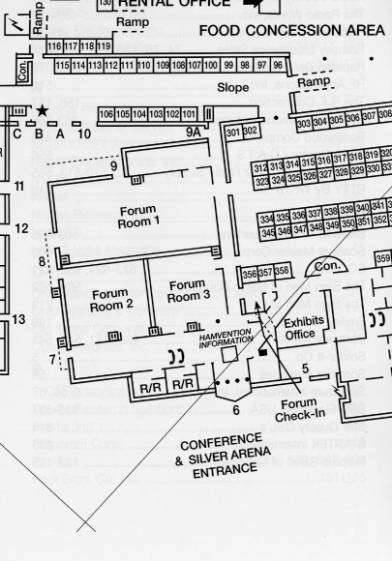 Here's the lineup:
Moderator: Mike Nickolaus, NFØN
8:00 - 8:30 Informal get together.
8:30 - 8:15 Welcome, Announcements, Introductions
8:15 - 8:45 "HF Bicycle Mobile….DX???" --- Ned Mountain, WC4X
8:45 - 9:15 "Dayton or Bust: Bicycle Mobile from Ontario to Ohio" --- John Cumming, VE3JC --- Ken LaRose, VE3ELA --- Russ Dwarshuis, KB8U
9:15 - 9:30 Share your ideas with other BMHA'ers --- Mike Nickolaus, NFØN
We will be looking for you at 8:00 am on Sunday May 20. Bring your ideas with you and if you have handouts, we will have a place for you to make them available to others.
After the forum, we can continue our "Visiting" at the Food Concession area which is close to our forum room ( see diagram this page ).
See the BMHA Website http://www.LaFetra.com/BMHA for any last minute details
--- Mike Nickolaus, NFØN, Forum Moderator email: nf0n@arrl.net